Business-Minded Family Man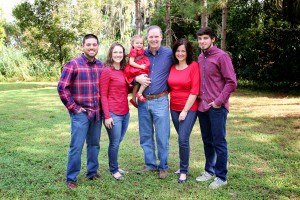 Wilton Simpson lives in Trilby with his wife Kathy and their son Wilton Jr. His daughter Lauran and her husband Kenten are proud parents of Addy, born in May of 2014. Wilton is an entrepreneur and a hard-working business leader. He is the head of Simpson Environmental Services, Inc., which specializes in asbestos removal, mold remediation, duct cleaning and general contracting. Simpson also owns and operates Simpson Farms, Inc., an egg-laying operation home to over one million chickens that supply eggs for Florida's families through supermarkets all over the state.
Community Leader
Wilton Simpson has served on the Pasco-Hernando Community College Board of Trustees, as Chair of the Pasco County Fair Association, and has strongly supported the Boys and Girls Club and the Dade City downtown redevelopment efforts. Simpson was the Chair of the Pasco County Farm Bureau, a member of the Farm Bureau State Board, and served as the Chair of the Pasco Economic Development Council. Wilton has volunteered as a Chairman for Habitat for Humanity, Dade City Kiwanis Club, and the San Antonio Dixie Youth League. He is a 2002 graduate of Leadership Pasco, a past board member of the Dade City Chamber of Commerce, and a member of the West Pasco, Hernando, and Sumter County Chambers of Commerce.
Effective Legislator
Since being elected to the Senate in 2012, Wilton has served as the Chairman of the Senate Community Affairs Committee. Among his many legislative accomplishments are the Everglades Restoration Act, which will provide for the continued restoration and protection of this national treasure; the Natural Gas Vehicle Act, which has paved the way for increased usage of cleaner burning natural gas while creating Florida jobs; the Military Protection Act, which enhanced penalties for those who specifically target members of the military and their families; and the Consumer Water Protection Act, which gave consumers a clear process if their utility company has not been responsive when there are water quality concerns.
Paid for and approved by Wilton Simpson, Republican for Florida Senate, District 10